Office safety . Safety training at kochi
Sitting Wrong At Your Workplace Your Entire Life…
If this is the posture  you maintain at work, read below

common reason for you suffer from the pain.

That back pain keeps you off job whol day.

Because of that it reduces your performance at work. what is the solution now?

sit upright. Hunchin back, slouching forward, and upright position strain your back all the same.

The best position to sit in is this.

Sitting at an angle of 100-135 degrees of your back to your legs is the ideal position. You are relaxed this way, and your muscles aren't stressed in any way.

Check this out attentively.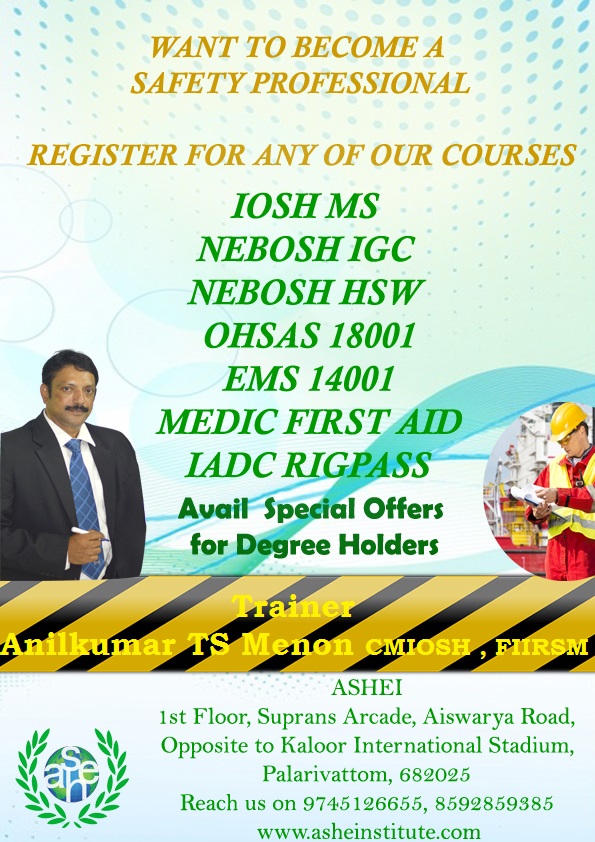 BSC Level 6 IDIP-OSH at Kochi 

HSE MANAGER PACKAGE ASHEI KOCHI
International Health and Safety Training From Qualified tutors at ASHEI… 
https://www.facebook.com/events/119608495574766/
Get yourself upgraded with ISO 45001!!!!
Lead Auditor Course @ ASHEI Kochi. (Migration from OHSAS)
Tentative date of course commencement on 25th May 2018.
Similarly Call us for migration Auditor training for Existing OHSAS 18001 LA. 
Lead Tutor Anil Menon CMIOSH FIIRSM OSHCR.

Contact: 9447609617, 8606108800
https://www.facebook.com/events/126414091483901/
Maintenance Shop Safety
Maintenance Shop Safety Rules
 Employees must wear their seat belts when driving on company business.
 Report to work free from the aftereffects of drugs or alcohol.
 Horseplay is not permitted.
 Report maintenance needs or hazards before the end of your work shift.
 Report incidents or injuries before the end of your work shift.
 Lock and tag machines that are being serviced.
 Block and lock machines that could fall during service or maintenance.
 Control hydraulic or mechanical energy that could suddenly release during maintenance.
 Use jack stands when working beneath machines.
 Wear protective eyewear whenever exposed to flying objects or dusts.
 Keep tongue guards and tool rests properly adjusted on bench grinders.
 Do not remove shields or guards provided on shop machinery.
 To reach items, use a proper foot stool or ladder and never stand on chairs or machines.
 Material safety data sheets must be stored and made available for chemicals used on a regular basis.
 Do not run in the work area.
 Pick up trip hazards when they are discovered.
 Clean up slip hazards once discovered.
 Do not smoke near chemical storage or forklift charging or refueling stations.
 Do not smoke during any maintenance activities.
 Turn off oxy-acetylene torches when not in use.
 Remove air or torch hoses that are damaged.
 Do not use damaged, worn, kinked extension cords.
 Remove extension cords that are damaged.
 To prevent fire keep oily rags and towels in approved metal safety hampers.
 Keep fire exits clear, unblocked and unlocked.
 Fire exit and emergency lighting should be lit and battery backups should function.
 Keep fire extinguishers and fire alarm pull stations clear.
 Keep emergency eyewash stations clear.
 Clean up spills of liquids, lubricants or water.
 Do not clean parts with gasoline. Use approved parts cleaning fluids and protective gloves.
 Know severe weather shelter locations within the building.
 Get help to team lift heavy objects like supplies, components or tools.
 Use pallet jacks, dollies or carts to move heavy objects.
Click to watch a video : https://www.youtube.com/watch?v=RhprhgX7XMo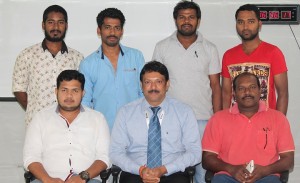 Join ASHEI… Be a certified Safety Professional.
Registration going on for May batch. Few seats available.
NEBOSH, IOSH, IADC RIGPASS, OSH DIPLOMA, CIEH, OHSAS, BSE LEVEL 6 etc…
RESERVE YOUR SEAT AND BECOME A SAFETY PROFESSIONAL….
ASHEI
An ISO 9001:2008 Certified – Environment Health and Safety Training Institute
IOSH|NEBOSH|CIEH|IADC Rigpass Accredited center @ Kochi
First Floor, Suprans Arcade, Aishwarya Road,
Opposite to Kaloor International Stadium,
Palarivattom(PO), Ernakulam – 682 025
Phone : 0091 484 2343590
Mob : 91 85 928593 85 , 9447609617
Web:-www.asheinstitute.com