Maintenance Shop Safety
Maintenance Shop Safety Rules
 Employees must wear their seat belts when driving on company business.
 Report to work free from the aftereffects of drugs or alcohol.
 Horseplay is not permitted.
 Report maintenance needs or hazards before the end of your work shift.
 Report incidents or injuries before the end of your work shift.
 Lock and tag machines that are being serviced.
 Block and lock machines that could fall during service or maintenance.
 Control hydraulic or mechanical energy that could suddenly release during maintenance.
 Use jack stands when working beneath machines.
 Wear protective eyewear whenever exposed to flying objects or dusts.
 Keep tongue guards and tool rests properly adjusted on bench grinders.
 Do not remove shields or guards provided on shop machinery.
 To reach items, use a proper foot stool or ladder and never stand on chairs or machines.
 Material safety data sheets must be stored and made available for chemicals used on a regular basis.
 Do not run in the work area.
 Pick up trip hazards when they are discovered.
 Clean up slip hazards once discovered.
 Do not smoke near chemical storage or forklift charging or refueling stations.
 Do not smoke during any maintenance activities.
 Turn off oxy-acetylene torches when not in use.
 Remove air or torch hoses that are damaged.
 Do not use damaged, worn, kinked extension cords.
 Remove extension cords that are damaged.
 To prevent fire keep oily rags and towels in approved metal safety hampers.
 Keep fire exits clear, unblocked and unlocked.
 Fire exit and emergency lighting should be lit and battery backups should function.
 Keep fire extinguishers and fire alarm pull stations clear.
 Keep emergency eyewash stations clear.
 Clean up spills of liquids, lubricants or water.
 Do not clean parts with gasoline. Use approved parts cleaning fluids and protective gloves.
 Know severe weather shelter locations within the building.
 Get help to team lift heavy objects like supplies, components or tools.
 Use pallet jacks, dollies or carts to move heavy objects.
Click to watch a video : https://www.youtube.com/watch?v=RhprhgX7XMo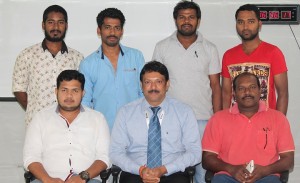 Join ASHEI… Be a certified Safety Professional.
Registration going on for May batch. Few seats available.
NEBOSH, IOSH, IADC RIGPASS, OSH DIPLOMA, CIEH, OHSAS, BSE LEVEL 6 etc…
RESERVE YOUR SEAT AND BECOME A SAFETY PROFESSIONAL….
ASHEI
An ISO 9001:2008 Certified – Environment Health and Safety Training Institute
IOSH|NEBOSH|CIEH|IADC Rigpass Accredited center @ Kochi
First Floor, Suprans Arcade, Aishwarya Road,
Opposite to Kaloor International Stadium,
Palarivattom(PO), Ernakulam – 682 025
Phone : 0091 484 2343590
Mob : 91 85 928593 85 , 9447609617
Web:-www.asheinstitute.com