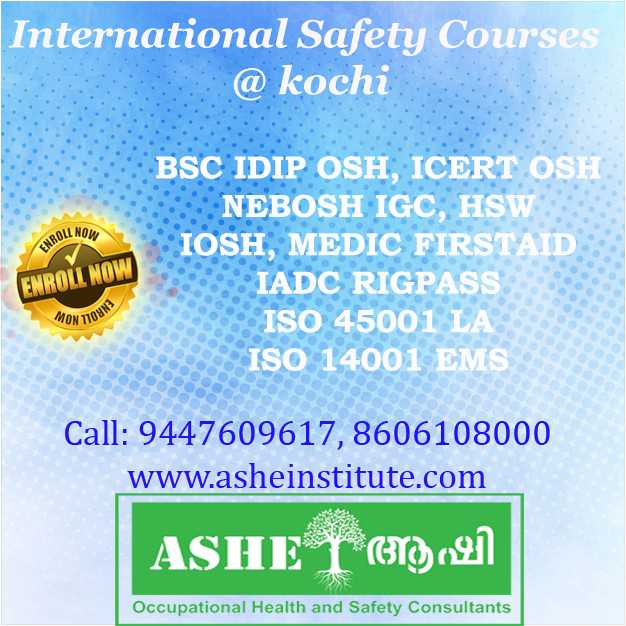 HSE MANAGER VACANCY UAE
Bio-Safety Specialist at Qatar
Urgent Vacancy at Biomedical Research Center!
As received on 15th October 2018.
Post:
Bio-Safety Specialist
ONLY WITH GENUINE QUALIFICATION AND EXPERIENCE NEED TO APPLY
Bio-Safety Specialist Qualications:
Firstly Bachelor's degree in Microbiology or Bio medical Sciences. Further more at least 3 years of laboratory experience directly related to the duties and responsibilities specified. Also Safety qualifications also prefered

Also  Master's degree in bio medical sciences may be substituted for up to 2 years of laboratory experience.
lastly Proficiency in Arabic and English, both written and verbal.
Provides professional assistance in monitoring and coordinating campus-wide biosafety program. Another to include risk-based laboratory inspections, accident investigations, in addition to record keeping. Assesses University facilities to determine suitability for use in potentially hazardous biomedical research operations, and advises professional and technical staff regarding biosafety practices, procedures, and regulatory requirements.
BSC Idip at Kochi Get upgraded to Grad IOSH
BSC Idip at Kochi Get upgrade to Grad IOSH
International Diploma : Course dates for BSC Idip at Kochi on April 8&9 Exam.  Certainly a must for HSE professional. And those who are looking to upgrade their professional status.In addition to the course. ISO 45001 Lead and ISO 14001 Lead registration commenced. To enroll call us on 8606108000 or mail info@asheinstitute.com. in order to register call us
www.asheinstitute.com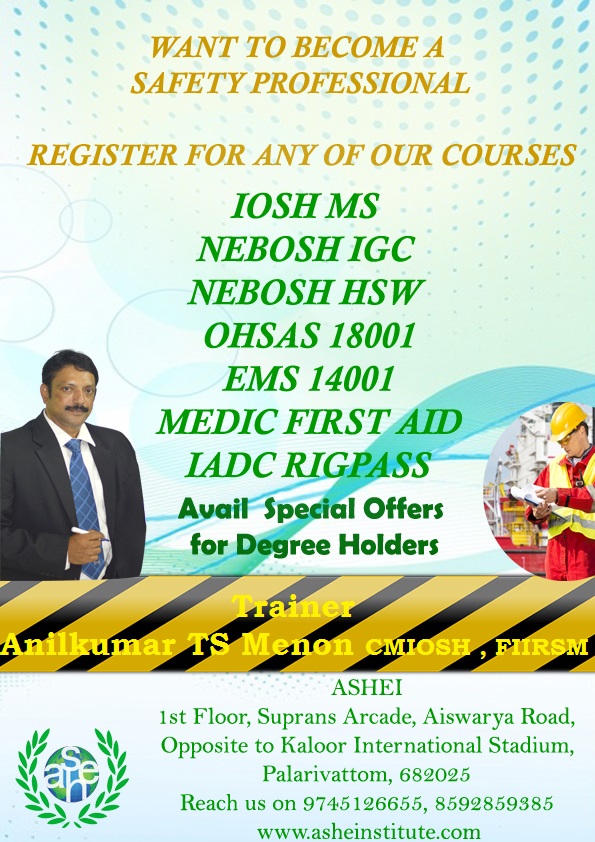 BSC Level 6 IDIP-OSH at Kochi 

HSE MANAGER PACKAGE ASHEI KOCHI
International Health and Safety Training From Qualified tutors at ASHEI… 
https://www.facebook.com/events/119608495574766/
Get yourself upgraded with ISO 45001!!!!
Lead Auditor Course @ ASHEI Kochi. (Migration from OHSAS)
Tentative date of course commencement on 24th June 2019
Similarly Call us for migration Auditor training for Existing OHSAS 18001 LA. 
Lead Tutor Anil Menon CMIOSH FIIRSM OSHCR.

Contact: 9447609617, 8606108800
https://www.facebook.com/events/126414091483901/