IOSH MANAGING SAFELY Version 5.0 @ ASHEI 
The Institution of Occupational Safety and Health (IOSH) is a British organization for health and safety professionals. The IOSH Managing Safely Certificate Course focuses on specially training the managers and supervisors of any organization. The course helps them comprehend and adopt high standard occupational health and safety principles and practices in their particular work culture.
Who is the course for?
Anyone in a management role.
Why it works?
• Designed for managers and supervisors in any sector and in any country
• Provides the knowledge and tools required to manage safely
• Peace of mind from training that's designed and quality-controlled by us
• Flexibility of delivery that suits your business
• Internationally recognised and respected certification
• Efficient and effective learning – health, safety and environmental basics covered in a single programme
What to expect?
• Memorable and thought-provoking facts and case studies
• Modules backed by clear examples and recognisable scenarios
• Summaries to reinforce key points
• Checklists and materials supplied for subsequent use in the workplace
• Interactive quiz and discussions
• Practical exercise based on the operations of a real business
• Successful delegates awarded a Managing Safely certificate
Top 5 business benefits
• Greater productivity – fewer hours lost to sickness and accidents
• Improved organisation-wide safety awareness culture and appreciation of safety measures
• Active staff involvement to improve the workplace
• Internationally recognised certification for managers and supervisors
• Enhanced reputation within the supply chain
Top 5 delegate benefits
• Ensures you can assess and control risks and hazards
• Ensures you understand your own responsibilities for safety and health
• Enables you to investigate incidents
• Empowers you to measure your own performance
• Allows for personal reflections on good practice
4 Days course
Introduces managerial level professionals to effective management of safety and health at workplace, last day of the course you have to write an exam.

For further assistance contact me on 9447609617

ASHEI
An ISO 9001:2008 Certified – Environment Health and Safety Training Institute 
IOSH|NEBOSH|BSC|MFA|OHSAS|IADC Rigpass Accredited center @ Kochi
First Floor, Suprans Arcade, Aishwarya Road,
Opposite to Kaloor International Stadium, Palarivattom(PO), Ernakulam – 682 025
Phone : 0091 484 2343590
Mob : 91 94 476096 17, 85 928593 85
Email : info@asheinstitute.com, ashei.neena@gmail.com
Web : www.asheinstitute.com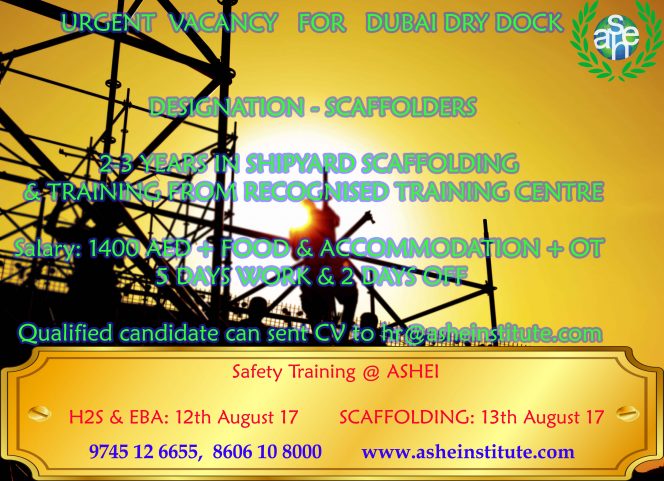 URGENT VACANCY FOR DUBAI DRY DOCK
DESIGNATION: SCAFFOLDERS
QUALIFICATION:  2-3 YEARS EXPERIENCE IN SHIPYARD DOING SCAFFOLDING WORK & TRAINING FROM RECOGNISED TRAINING CENTRE
PACKAGE:  1400 AED + FOOD & ACCOMMODATION + OT
5 DAYS WORK & 2 DAYS OFF
Qualified candidates can sent CV to hr@asheinstitute.com
Scaffolder training @ ashei
Date: 12th August 2017
Time: 10 am
Venue: ASHE Institute
For registration & details: 9447609617, 8606108000
www.asheinstitute.com
Safety Glasses Work
Eye injuries are 100 percent preventable.
Your eyes are very delicate, made of thin tissues that can't take much damage. You can't blink fast enough to prevent an injury. Significant surgeries are required when serious damage occurs. Shavings, grindings and other particles can fly at high velocities into the eye.
1. Safety glasses are a barrier between your eyes and flying objects.
2. If there is ANY CHANCE of a flying object, wear protective eyewear.
3. Use ANSI-approved safety glasses.
4. Wear eye protection when grinding, buffing, cutting, sawing, chipping and using chemicals.
5. Bad eye injuries will require significant surgery, and at least some loss of vision will most likely result.
1st Floor, Suprans Arcade, Aiswarya Road, Opposite to Kaloor International Stadium, Palarivattom, 682025
Reach us on 9745126655, 8592859385